Which Program Will You Choose to Spend Your Summer with NCSY!?
In 2018, nearly 1,600 teens spent their Summer with NCSY! That number will grow in 2021… will you be one of them?! On this page, you'll find some of the best videos of our Summer Programs, as well as a list of discount and scholarship opportunities. See you there! Below you'll find information about scholarships and program options. Call us for more information!
Click here to see a chart of NCSY's trips, schedules, and prices.
Click here to see a chart of JSU's trips, schedules, and prices.
Click here to register for Summer 2021!
Discounts and Scholarships!
NCSY and the entire Cleveland community are dedicated to trying our best to make sure Jewish teens who want to have incredible experiences over the summer are able to do so. Please make sure you contact us directly to find out how to make the experience of your choice work out. We will try our best to find funding when needed and will outline NCSY experiences that your teen can participate within to earn their scholarship.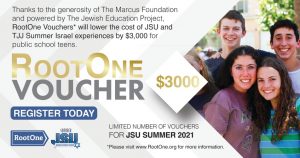 The New RootOne Voucher is changing the game! 
There are a limited amount of $1000 scholarships for any Jewish day school teen. 
There are a limited amount of $3000 scholarships for any public school teen. 
Category 1: Time Based Discounts

Pre-register by September 30th, 2019 with no money down and save up to $200 off the cost of any NCSY Summer 2020 program!

$100 Pre-Registration discount – Complete Pre-Registering online by Sept. 30th AND apply by Oct. 31st
+ $100 Early Bird discount – Apply by Oct. 31st

Pre-Registration is FREE and is NON-COMMITAL. (You CAN pre-register today for a program you may be uncertain of and change your choice of Summer Program later.)
Category 2: Need-Based Scholarships
National NCSY Summer Programs Scholarship can be received for families in need by applying here.
Up to $2,000 Financial Need-Based Scholarship can be received through the JECC by families who can either demonstrate their financial need or who have extenuating circumstances that would require extra funding to attend a trip to Israel. These funds are available on a first come first serve basis. We recommend you call us if you have any question at all as to whether you qualify for this scholarship. Click here to find the scholarship form online to print, fill out and send in. (They require a Tax Return, but you can send in the application without it, and forward the Tax Return when it is received later.)
The NCSY Learn and Earn Program is an incredible way to earn the scholarship you need to go to Israel while connecting to the Jewish community. To earn $500 in scholarship to your program, you must:

Attend 10 Nights of the Jewish Scholars Program. These nights can be made up both before AND after the summer. Click here for more information about the Jewish Scholars Program.
Attend one Central East NCSY Regional Shabbaton. This can be attended before or after the summer.
Scroll to the very bottom of this page to sign up for the Learn and Earn Program.

Additional NCSY Funds can be available through NCSY on a case by case evaluation. Reach out to us to learn more. 443-468-7861
Category 3: Other Payment Considerations
Gift of Israel funds (for more information click here) is eligible to be used for all our Israel based Summer Programs.
Payment plans stretched over a short amount of time can be utilized to help make your payments more affordable.
Want to attend an information session?
There's so much to learn about NCSY Summer Programs and that's why we run Info Sessions ON DEMAND! Reach out to us TODAY to set up a time for a group or one on one meeting!
The Jerusalem Journey (TJJ)
TJJ is the premier summer experience for Jewish teens! We tour all around Israel for 4 amazing weeks for a summer that you will never forget! Simply stated, it's the Best.Summer.Ever. 15-20 teens from Cleveland have had the most amazing experience of their lives on TJJ for 5 years running! Ask ANYONE who has gone… tell us if you want names!
Yom NCSY
When over 1,600 Jewish teens are in Israel at the same time, it is cause for celebration. Every summer, we do just that at Yom NCSY. Prepare to be blown away and to never forget your Best. Summer. Ever.
TJJ AP (Poland)
Next Step Israel Internships
Euro ICE
BILT
Michlelet
JOLT
JOLT Israel
Camp Sports (Domestic Trip)
Camp Maor (Domestic Trip)