The Schach Sale 2019 is now open!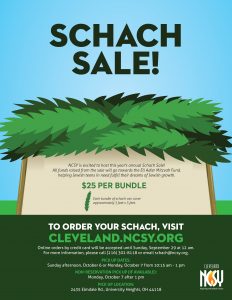 For all questions, please call 216-302-8118 (NCSY) or email schach@ncsy.org.
Order deadline: Online reservations by credit card only until the morning of Sunday, September 29 at 12am.
Online Reservation Pickup – Sunday, October 6 and Monday, October 7 between 10:15 am -1 pm
Non-Reservation Pick Up (If Available) – Monday, October 7 after 1 pm
All Proceeds from the Schach Sale go to the Eli Adler Mitzvah Fund, helping Jewish teens in need fulfill their dreams of Jewish growth.
Sorry. This form is no longer available.