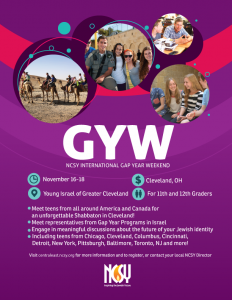 November 16-18, 2018
Cleveland, OH
Every November, Gap Year programs from Israel, as well as other colleges, converge in Cleveland to allow for important and lively discussion amidst teens from around the country in order to pave the path for their Post High School decisions.
The event starts on Shabbos and ends after a Saturday Night activity, and includes meals, programming, speakers, activities, and opportunities throughout the weekend to meet the Programs' representatives.
If you have the capacity to help house guests from out of town, please email shayna@ncsy.org!