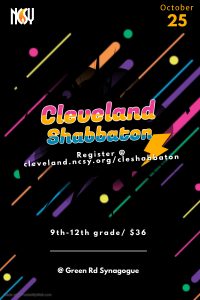 October 25-26
9th-12th grade/ $36 
All events will be in Green Rd. Synagogue unless otherwise noted.
6 pm- Niggun Minyan
7:15 Dinner
9:15 Oneg (Location TBD)
11:15 Good night
12 pm Lunch
1:30 Are you smarter than an advisor?
4 pm Round robin
5 pm Seuda Shlishit with Yachad
8:15 Bowling (Location TBD)
Register now!