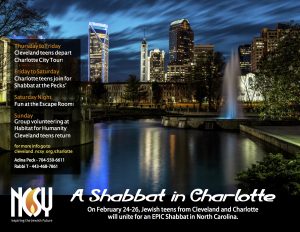 A Shabbat in Charlotte!
On February 24-26, Jewish teens from Cleveland and Charlotte will unite for an EPIC Shabbat in North Carolina!
Charlotte Teens
Please join us for ANY part of the weekend! Shabbat will be fun and amazing! The Escape Room on Saturday night and Sunday morning's volunteer activity will be exciting and memorable!
Contact Adina Peck for more information on how to be involved – 704-550-6611
Cleveland Teens
We'll be taking as many as 6 teens on this amazing and exclusive trip! We'll be leaving on Thursday for this short road trip and sleeping at home hospitality in the warm Charlotte community. On Friday we'll be taking a tour around the beautiful city and spending Shabbat with some amazing Charlotte teens! We'll be returning on Sunday after a meaningful community volunteer activity.
Contact Rabbi T for more information on how to be involved – 443-468-7861