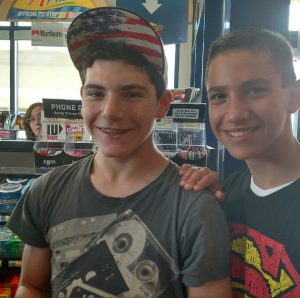 Rafi Setnik has been involved with NCSY for nearly two years. As an integral member of chapter board this year (as well as camper at NCSY's Camp Sports in Baltimore!!!) NCSY has undoubtedly influenced Setnik, and vice versa. A Freshman at the Fuchs Mizrachi School in Beachwood, Setnik enjoys the Humanities and Culture courses offered there.
When asked how NCSY has impacted him, Setnik explained how the organization and its programs have allowed him to reach new perspectives of Jewish living. "I used to think there was one way for Jews to live," Setnik remarked, "[NCSY has given] me perspective on how acceptable it is for Jews to live their lives as they do."
Rafi noted that, this year, as a high schooler and member of chapter board, many of his friends and fellow board members have been able to see a different side to him. His friends would describe him as "annoying in a good way," and, "willing to comply to most requests."
Setnik has certainly exhibited the latter of these qualities as he consistently lends a helping hand and steps up when needed within Chapter Board and Cleveland NCSY at large. One of the habitual first responders in the Chapter Board group chat, Rafi has demonstrated his willingness to take initiative time and time again.
Just in these past few weeks, Rafi has taken the lead to help establish and coordinate a new weekly Parsha class held weekly at Green Road Synagogue at 10:30am on Shabbos morning, called Parsha Live. And when the Cleveland Camp Fair called for an NCSYer to man a table advertising NCSY's Camp Sports, guess who quickly stepped to the task? You guessed it. Rafi.
He has also impacted NCSY quite significantly, as he invited several of his friends to join him at Camp Sports this summer. He says that participating in the program made a difference in their lives. This summer now has the largest ever contingent from Cleveland, with 8 teens registered so far.
One thing you probably don't know about Rafi, is that his cousin, born in Alaska, is a female cage fighter for the Women's MMA. Impressive! If Rafi were a new addition to a crayon box, he would most likely be orange, as it best suits his personality.
According to Setnik, "It represents fire in a way and I feel that's how other people feel about me," he expressed with humor.
Cleveland NCSY has definitely latched onto Rafi. His participation on Chapter Board is greatly appreciated. Mazel Tov, Rafi, for being Cleveland NCSY's first NCSYer of the Month!
written by Jakob Bolman, VP of Chapter Board Development